Mandeville Surge Protection Systems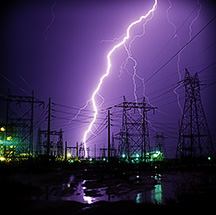 Surges are sudden and unexpected spikes in voltage that travel throughout your home electrical system.
Some surges come from within your own home, such as turning on a dryer or sending a document to your printer. Other surges come from outside your home, as in electric utility switching, downed power poles, cut power lines, and lightning strikes. Surge can even enter through cable televisions and telephone wiring.
For example, if lightning struck a Mandeville area home, or somewhere around it, a surge may go through the electrical system and anything that is plugged in may get "fried", whether it is turned on or off. Homeowners end having to pay out of pocket to replace these appliances and equipment.
Most Mandeville homes have some type of expensive electronic equipment in it; for example, kitchen appliances, water heaters, etc., which are vulnerable to power surges. These items can be protected with a Mandeville whole house surge protector. Additionally entertainment equipment and/or computers can be protected with a surge bar. Some of these affordable surge protectors come with a lifetime warranty and cover up to $25,000.00 worth of appliances.
Our Slidell Surge Protection Services Provide
Mandeville Surge Protection
Lighting Surge Protection
Mandeville Device Protection
Whole House Surge Protection
Slidell Surge Arresters
Mandeville Surge Suppression
Slidell Lighting Protection
Uninterruptible Power Supply
Power Strips
Power Surges
Mandeville Surge Protectors
Slidell Whole House Surge Protectors
We Provide Surge Protection in the Following Areas
Slidell, LA | Mandeville, LA | Covington, LA | Hammond, LA | Lacombe, LA | Madisonville, LA | Saint Tammany Parish, LA
Why Slidell Should Hire Us For Their Surge Protection Needs
MK Electric Man employs trained and experienced Slidell electricians who are serious about our trade and profession. Compared to our competition we are the best price in Slidell for quality electrical service and installation. We are available, to assist you with any electrical problem that may arise. MK Electric Man offers services to the homeowner and businessowners. We can handle your project no matter how large or small.
MK Electric Man can handle any electrical task no matter how complex it may be. Whether it's providing electrical repairs or performing electrical panel upgrades, we take our work seriously At MK Electric Man, our electricians are background checked and drug tested. We are licensed, bonded and insured and provide fast, reliable service, because our number one priority is respect for the home and the client.
Latest Articles
If you are like most homeowners, changing a light bulb is about the extent of your electrical repair abilities. Fortunately, [...]

Most New Orleans households and buildings regularly require electrical repairs. This is logical as electricity is always used for operating [...]
If you're looking for a professional electrician in Slidell, then please give us a call today at 985-882-4001 or complete our online request form.