Panel Upgrades in Hammond, Louisiana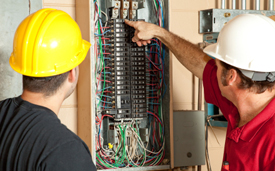 Rebuilding or repairing your circuit breakers can prevent uncalled for downtime and in many cases is more cost-effective than replacing your existing equipment. Our know-how ensures that we can perform top quality repairs, modifications, rebuilding and maintenance on most circuit breakers and larger frame molded case breakers of all brands and vintages.
An electric panel upgrade is just what it implies. It is an upgrade from the existing electrical panel. With all the new appliances, and technical devices we now have in our Slidell homes, we find that older homes might not have sufficient power available to handle the increased demand. Therefore, a "service change" is required. This includes not only an upgrade in your electric panel. But an upgrade in your meter socket and wire size between the meter and panel.
A panel change out is usually required to alleviate a problem with the existing panel. Sometimes a breaker might overheat to the point that the buss bar in a panel gets burned. The conductors between the meter and panel may become loose and burn out the main lugs, especially common when aluminum conductors were used.
Our Panel Upgrades in Hammond include:
Panel Upgrades
Electrical Service
Electrical Breakers

Commercial Electrician
Service Panel Upgrades
Replace Electrical Panel

Electrical Sub Panel
Upgrade Amp Service
Main Electric Panels
We provide Panel Upgrades in the following areas:
Chalmette, LA
Metairie, LA
West Bank, LA
New Orleans, LA
North Shore, LA
Why Hammond Should Hire Us for Their Panel Upgrades:
Our professional electrical contractors can come to your home and diagnosis any type of electrical problem you have. We will personally do all your electrical work guarantee you an excellent service. We use all the finest materials that are available for your project.
At MK Electric Man, our professional Hammond electricians handle all types of electrical work such as adding and trouble shooting existing wiring, appliance circuits, panel upgrades, ceiling fans, cable outlets, dimmers, code inspection, telephone/DSL jack and all lighting services.
Latest Articles
Most New Orleans households and buildings regularly require electrical repairs. This is logical as electricity is always used for operating [...]

If you are like most homeowners, changing a light bulb is about the extent of your electrical repair abilities. Fortunately, there are qualified Slidell electrical repair contractors just a phone call away. [...]
If you're looking for a professional electrician in Slidell, then please give us a call today at 985-882-4001 or complete our online request form.