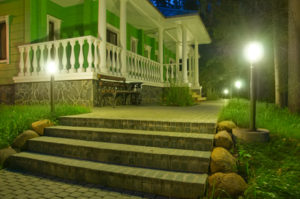 Landscape lighting can beautify your home after dark, true, but how do you know what to install when there are so many options out there? There are many that will enhance your curb appeal and make your home look beautiful at night. But there are also functional aspects to consider for the security and safety of your property.
Our Slidell electricians at MK Electric Man have put together this basic outdoor lighting guide to help you figure out what you may want to do. You can always get more advice from a local electrician who installs landscape lights.
Pathway & Walkway Lighting
Outdoor lighting can be positioned along the walkways or garden pathways for safety. It can be very helpful for foot traffic. You're not only making your yard and garden areas safer, you're making them look great! Consider all the different low lighting options for walkways and pathways. Remember that solar pathway lights have to be positioned in areas with enough sunlight. Lights which are directly installed will be more reliable. We suggest installing low profile, low voltage walkway lights:
Path and stake lights
Deck lights
Stairway lights
Lowlights at ground level near the front entry
Garden Spotlighting
Spotlights aren't as harsh as floodlights and security lights can be. In fact, you can even get colored outdoor spotlights. A landscape would not be complete without a little spotlighting to illuminate certain special features. Spotlighting draws attention to landscape sculptures, special plantings, the architectural features, and more. We suggest:
Downlighting placed in trees or
Uplighting to highlight tree groupings or statues
Garden Pole Lighting
When outdoor light fixtures are placed on poles, the post can be of any height but generally higher than shoulder level. Garden pole lighting tends to be installed on shorter poles for more decorative purposes. Think of the old pole lantern styles that are very popular in gardens, along walkways, beside swimming pools, or near the curb on the front lawn. We suggest:
LED Pier Mount Lights
LED Post Lights
High Outdoor Post Lights
Dusk To Dawn Lighting
One great way to be sure that you never forget to turn off the outdoor lights is to install dusk to dawn lighting. Another option is smart lighting which directs the glow only where it's needed. The dusk-to-dawn lights will sense when it's time to turn on and off automatically. You can also install motion sensor lights which are helpful for security. Otherwise, you can install a timer for the outdoor lighting.
About LED Retrofits For Outdoor Lighting
LED light fixtures last longer, are more efficient, and are more reliable than just using the LED bulbs. If you have a home with very little outdoor lighting, consider an LED retrofit for the old fixtures. This process involves removing and replacing them with new LED fixtures.
If you would like to learn more about Landscape Lighting in the Slidell, LA area, please call MK Electric Man at 985-882-4001 or complete our online request form.